Click
here
to view the video in a new window.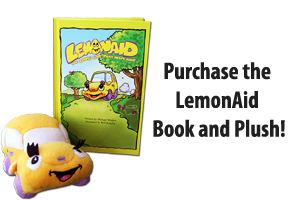 2013 Race Schedule
April 20 - 21
Campaign to Prevent Gingervitis - South Haven, MI
June 8 - 9
Doing Time in Joliet- Joliet, IL
November 2 - 3
Road America - Joliet, IL
News
LemonAid Racing wins the coveted IOE award

LemonAid was awarded the coveted IOE trophy. The top prize in LeMons racing. Given to teams that squeeze the most from the least.
An old Geo Metro found hidden away in a barn and a dedicated group of
drivers
and
sponsors
will transform this little lemon into a race car.

It will be put to the test against a hundred other cars twice its size.
With every lap the team completes your support will enable us to raise funds to support the kids at
Wildwood Hills Ranch
! Together we can change kids' lives one lap at a time.
Articles on the team:
Showroom-Schlock Shootout 2011: The Winners
24 Hours of LeMons Chicago: The Winners!
Getting a thrill from LeMons
24 Hours of LeMons Detroit: The Winners